It was a sunny Fall morning in Montreal. Entering the equally sunny resto for our monthly brunch we greeted each other with friendly eyes and in typical Quebec fashion, the double cheek kiss. Today I want to hear about how Alex Tran went from being a biologist studying electric fish in Panama to photographing the range of human personalities with his portraits and wedding business. It's what we all wonder, how to dive-in to photography full time.
The café lattés, the elegant eggs and fruits that graced our plates only enhanced the experience, the candid and real conversations that took place. Coming to the monthly brunches offers the chance to have a tête-a-tête, a one-on-one up close and personal with a person who is an example of how to create your own success. Many times many people say that in creative fields, and especially photography, today, it is difficult to earn a living. I would say that may be true if you are assuming the conditions exist as they did 20 years ago. Times have changed. From now on everything is different.
Each of us has our own creative journey.  Today you may still be working at that JOB while squeezing in your passions around your busy life, wondering when and how to shed the corporate shackles to do what you were meant to do.
It starts with one action, a one degree change today. You cannot change your destination overnight but you can change your direction overnight.  This one small degree of movement or action if harnessed and focused can lead to dreams realized.
Here are some of those small degrees of action that you can take today to move you toward your destination. As small as it may seem, each step you take changes your direction. Make it one that truly fulfills you.
Alex's list for making a move:
1. Listen to Podcasts:
 I just love the medium of podcasts because I multi-task like crazy. I learned basic SEO, client interactions and customer service, basic business practices. Check out:
2. Find your system to Get Things Done:
All those ideas, administrative tasks, maintenance tasks, unfinished projects, new projects, marketing, networking, prospecting, producing work and so-on, it's no wonder it feels like we can never get anything done. I progressed by having a clear direction and system. I like  the "Getting Things Done" philosophy.  What I found works for me is:
Get Things Done system starts from bottom up in organizing your tasks.
Keeping track of all client inquiries (date, type of assignment, etc.)
Getting to zero in my email inbox every day.
3. Start now – Things I wish I started Earlier:
Ask for client testimonials. It's a win-win. If it's a good testimonial, it'll help in attracting more clients. If it's neutral or if they refuse to write you one, this is your opportunity to ask why, which serves as important feedback for you to improve upon. Here's a link that shows how you can ask for great testimonials.
My Blog. I did start it early, but I was running across different platforms and only settled with WordPress a few years ago. Between two otherwise equal websites, Google will rank you higher if you've been around longer, if you post frequently and just recently (April 2015) if your site is mobile friendly. So start now even if you feel you're not good at it.
Keep in touch with past clients. After assignments, I'd mentally "check them off", be happy it's done and move on.

Keep in touch!

Ask them how they're doing. Ask about their projects. You never know when they'll be having a conversation with someone who mentions they need a photographer. If you maintain a friendly relationship with them after the shoot they'll be much more likely to refer you to others. This leads me to my next point.
Thank everyone who referred you. This might sound obvious, but thank everyone who mentions that you're a photographer to someone else, regardless of whether it leads to a job or not. Word-of-mouth referrals are super important in photography, and if you show real appreciation to those who made the effort of mentioning you to someone else, they will be more likely to do it in the future.
Ask people where they found you. Be specific about it, "I found you on Facebook" wouldn't be enough for me. I'd want to know whether it was because I tagged a friend, or whether it was because they saw a specific blog post. Don't just ask clients that book you, ask people who say no as well. You might find interesting patterns, like "People who contact me from my Instagram page are much less likely to book me than people who contact me after finding me on Google".
4. Now it's your turn:
Finally, I want to leave you with something actionable. I hate finishing a CreativeLive video, or reading a book, or reading a blog post, being super inspired, but not knowing what to do next.
Pick a date in your calendar right now in the next month or two. That's the deadline that you have to replace your worst 5 photos in your portfolio. Do what you need to do to replace them with 5 better ones. Contact people/organizations you've been wanting to photograph, learn a new technique, read a book about posing. Write it in your calendar and stick to the date!
Thanks Alex for your inspiring ideas and actionable steps. It will set us on a new direction.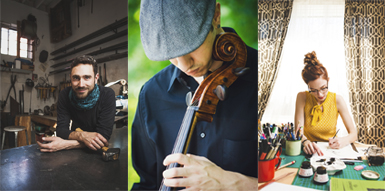 See Alex's work at:  alextranphotography.com
Sign up for Postcards from Alex: http://bit.ly/1TIV7qP
---
Keep up to date on upcoming events and activities. Check out the events page or follow us on facebook 
Related articles